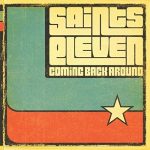 FTB Show #368 features the new album by Saints Eleven called Coming Back Around.  Here's the iTunes link to subscribe to the FTB podcasts.  Direct link to listen now!
Show #368
Saints Eleven – My Heart Coming Back Around
Rorey Carroll – Hotel Room  Love Is An Outlaw  
Jonah Smith – Heavy Hangs The Crown  Easy Prey 
Kelly Pardekooper –  You Don't Say  City At Night
(mic break)
The Piedmont Melody Makers – Kentucky Home  Wonderful World Outside   
Hiss Golden Messenger – Happy Day (Sister My Sister)  Heart Like a Levee    
The Currys – Restless  West of Here   
Waiting for Henry –  Mudconetong  Town Called Patience 
Saints Eleven – Coming Back Around  Coming Back Around
(mic break)
Courtney Granger – My New Year Starts Today  Beneath Still Waters
Elizabeth Cook – Orange Blossom Trail Exodus of Venus
Pete Sinjin – That's My Heart  The Heart And The Compass
Wayne Hancock – Slingin' Rhythm  Slingin' Rhythm
(mic break)
Saints Eleven – Let Them Go (feat. Courtney Patton)  Coming Back Around
Donate to FTB podcasts via PayPal here!
RSS feed: http://ftbpodcasts.libsyn.com/rss
Freight Train Boogie Americana Android App
Check out the new Americana Boogie Radio!
Flipboard: Americana Boogie Music
(Jan. 6th, 2017)
Bill Frater
Podcast: Play in new window | Download